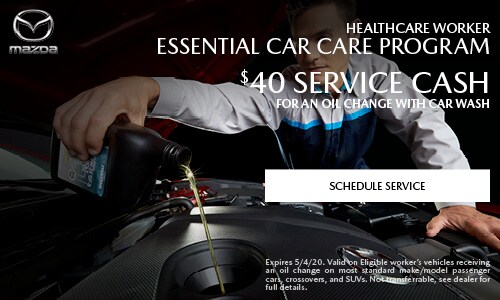 Mazda City of Orange Park offers the Mazda Essential Car Car Program for Healthcare Workers in Jacksonville
The need for healthcare workers, and the work they do, has been brought to the spotlight in the wake of the outbreak of Covid-19. In response to this the Mazda brand has committed to supporting these healthcare workers throughout the United States, with free standard oil changes and enhanced car cleaning services. The best part? They don't even have to own a Mazda vehicle. This isn't to say that there aren't any exclusions, with exotic vehicles, classic cars, and off-road vehicles being excluded from this offer. Here in Jacksonville, we know the value of these workers and with the arrival of this new program, the service center here at Mazda City of Orange Park is ready to provide the oil changes and cleaning services that these healthcare heroes deserve.
We know that in these times it can be hard to find a reliable asset for your auto service needs, so the Mazda City team is proud to be able to offer a small convenience in the form of these free service options, regardless of your vehicle brand.
If you're a healthcare worker in Jacksonville, Saint Augustine, Gainesville and beyond, you don't need to worry about where you'll be getting your next oil change  or your car cleaned, as the Mazda City service team is ready to provide services free-of-charge.
Mazda City of Orange Park is proud to take part in this Essential Car Care program as a gesture of gratitude to healthcare workers, as well as all of our Tom Bush Time Saver tools for anyone in the Jacksonville area that is looking to make a new Mazda or used vehicle purchase.
To all of our healthcare heroes in the Jacksonville area, we at Mazda City of Orange Park and the Tom Bush Auto Group, wish to extend our deepest gratitude for their efforts, and our hope that they'll stay safe throughout these modern times. Thank you, and we hope to see you soon.
Your privacy is important to us.
Mazda City of Orange Park takes your privacy seriously and does not rent or sell your personal information to third parties without your consent. Read our privacy policy.
Contact
Service

:

(888) 230-5159
Hours
Monday

7:00 AM - 7:00 PM

Tuesday

7:00 AM - 7:00 PM

Wednesday

7:00 AM - 7:00 PM

Thursday

7:00 AM - 7:00 PM

Friday

7:00 AM - 7:00 PM

Saturday

8:00 Am - 4:00 PM

Sunday

Closed